Nagoya University
Graduate School of Education and Human Development Student Affairs
Furo-cho, Chikusa-ku
Nagoya, Japan 464-8601

Graduate School of Education and Human Development School of Education Nagoya University : Faculty : Department of Educational Sciences : Sports Science for Lifelong Physical Activity :
AKIMA Hiroshi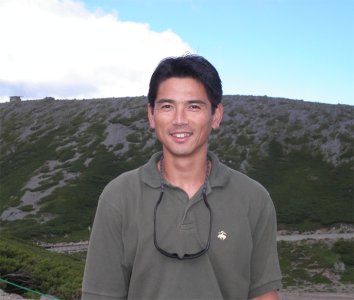 Professor, Hiroshi AKIMA, Ph.D (University of Tsukuba)

Area of Expertise: Exercise physiology
Reseach Interests: Morphology and function in human skeletal muscle

I'm intested in the effect of increase or decrease of level of physical activity (or neuromuscular activation) on function and morphology in human skeletal muscles. In our lab, two research topics are conducted. First, atrophy and dysfunction of muscle and its exercise prescription. This research theme is covered from injured patients, such as meniscal lesion, to Astronauts. Imaging techniques, magnetic resonance imaging (MRI) and ultrasonography, are usable for research. Muscle biopsy technique is also available to detect hypertrophic or atrophic molecular factors in human muscle under supervision of collaborators. Second topic is neuromuscular physiology. We focused on neuromuscular function of human skeletal muscle during exercise using muscle functional MRI and surface EMG. Neuromuscular function as a result of fatigue, training, aging or development etc. are available topic.


Selected Publication
Akima, H., Lott, D., Senesac, C., Deol, J., Gemain, S., Arpan, I., Bendixen, R., Walter, G., Vandenborne, K.: Relationships of thigh muscle contractile and non-contractile tissue with function, strength, and age in boys with Duchenne muscular dystrophy. Neuromuscul. Disord. (in press).
Watanabe, K., Akima, H.: Effect of knee joint angle on neuromuscular activation of the vastus intermedius muscle during isometric contraction. Scand. J. Med. Sci. Sports (in press).
Watanabe, K., Akima, H.: Validity of surface electromyography for vastus intermedius muscle assessed by needle electromyography. J. Neurosci. Methods 198: 332-335, 2011.
Watanabe, K., Akima, H.: Neuromuscular activation of vastus intermedius muscle during fatiguing exercise. J. Electromyogr. Kinesiol. 20: 661-666, 2010.
Akima, H., Hotta, N., Sato, K., Ishida, K., Koike, T., Katayama, K.: Cycle ergometer exercise counteract muscle atrophy during unilateral lower limb suspension. Aviat. Space Environ. Med. 80: 652-656, 2009.
Watanabe, K., Akima, H.: Normalized EMG to normalized torque relationship of vastus intermedius muscle during isometric knee extension. Eur. J. Apply. Physiol. 106: 665-673, 2009.
Detail information: http://www.htc.nagoya-u.ac.jp/~akima/
[ Top of page ]
Copyright (C) School of Education, Graduate School of Education and Human Development, Nagoya University All Rights Reserved.